Personal Profile
---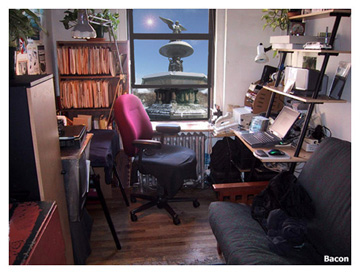 NAME:
Paul Bacon
RELATION TO KEVIN BACON:
Unknown
DESCRIBE YOUR NEIGHBORHOOD
UPON MOVING IN:
Skid row junkie flophouses
DESCRIBE NEIGHBORHOOD
NOW:
Glitzy men's fashion district
WHICH DO YOU PREFER?
Hard to say.
CONTENTS OF REFRIGERATOR:
(in alphabetical order)
accumulated ice, bottled water, can opener, cereal bowl, cold air, dental floss, ear plugs, ice pack, ice trays, food, frying pan, large knife, loose Tylenol caplets (in butter tray), old antibiotics, orphaned lids of various sizes, Pepto Bismol chewables (in Tylenol container), red wine vinegar, red wine vinegar-soaked paper towels, rubber bands, salsa, sauce pan, scrubbie, silverware, spatula, soggy wine cork, sponge, sprouting potato, standing water, strainer, toothbrush, toothpaste, water glasses, wine glasses
UM...WHY?
I used to have a serious roach problem. Now, all that stuff's still in there.
RECENT ACCOMPLISHMENT:
Articulating a single coherent thought
to the superintendent of my apartment building.
SECRET THRILL:
Answering a ringing payphone.

SECRET SHAME:
Never saw "Rent."
PREVIOUS HALLOWEEN COSTUMES:
2005 - Ghost of Hunter S. Thompson
1994 - J.R. "Bob" Dobbs
1990 - Homeless Kuwaiti Prince

YOUR THOUGHTS . . .
. . . ON COASTAL CITIES:
San Francisco is a carefree sailboat ride to nowhere in particular.
New York is a suicide rocket mission heading straight for the sun.
. . . ON UNBRIDLED ARROGANCE:
Let me who is without sin cast the first stone.
MAJOR COMPLAINT:
Duct tape is overrated.
NOSTALGIC FOR:
Life before car alarms.
A HAPPY THOUGHT:
My refrigerator is full of things
I can put in my mouth.
SOME PLACES VISITED:
Australia, Austria, Azerbaijan, Barbados, Bermuda, Canada, China, Czech Republic, Egypt, England, France, Germany, Hong Kong, Hungary, Indonesia, Israel, Japan, Jamaica, Kazakhstan, Kyrgyzstan, Lebanon, Malaysia, Mexico, Netherlands, Peru, Republic of Cyprus, Russia, Singapore, Slovakia, South Korea, Taiwan, Thailand, Turkmenistan, Uzbekistan, West Bank
RESIDENCES (from birth):
Valdosta, Georgia; Cherry Point, South Carolina; Camp Legune, North Carolina; Kaneohe, Hawai'i; Meridian, Mississippi; Pacific Palisades, California; Bethel Island, California, Oakland, California; Lexington Park, Maryland; Aurora, Colorado; Boulder, Colorado; Washington, D.C.; Osaka, Japan; Tanegashima, Japan; Kuala Lumpur, Malaysia; San Francisco, California; New York, New York; Honolulu, Hawai'i; Haiku, Hawai'i; Wailuku, Hawai'i
BEST McDONALD'S:
Central Rail Station, Budapest
BEST KINKO'S/FED-EX:
Astor Place, New York
BEST THING EVER, ANYWHERE:
(Tie): Peace of mind, elastic waistbands

RUNNERS-UP:
(in no particular order)
Padded bicycle seats, 24-hour drug stores, Sam Donaldson's eyebrows, large mountains, Swiss Army knives, fresh-squeezed orange juice, Jodie Foster, sea lions, solar-powered calculators, triple-blade razors, hot baths, Mexican food, Korean food, food in general, friendship, "BattleBots", illustrated dictionaries, head-mounted flashlights, quiet train rides, clean socks, small but not insignificant victories, large but non-threatening dogs, laser printers, constructive criticism, amusing tombstones, grocery stores that sell beer, British shoes, surprise parties, other people's problems, two-sided tape, three-day weekends, fresh breath, inflatable mattresses, opposable thumbs, flat-screen computer displays, fast-forwarding through commercials, shade trees, turkey bacon, "The McLaughlin Group", boxer-briefs, creative shaving, topographical maps, subway maps, maps in general, moments of clarity, Nutella, goofing off, fan mail, trampolines, erasable pens, flip-flops, free speech, movies, music, books, and long lists.
LIFE'S GOAL:
To find a synonym for "thesaurus."
ANY LAST WORDS?
It is impossible to die in a surfing accident. Surfing is an accident.
Would you say a stuntman died in a stunt accident?
If God forbid someone does not return from a wave-riding session,
we should say they "died while surfing".
YOUR DESIRED EPITAPH:
"He never lost his wallet or got locked out of his apartment."
GREATEST BRUSH WITH FAME:
Accosting World Chess Grand Master
Garry Kasparov for a photograph
New York City, 2000